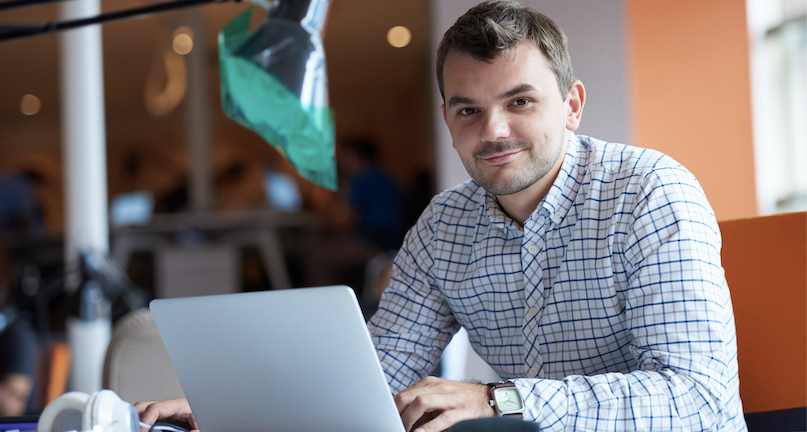 Starting a new business, or improving an already established company, is exciting and overwhelming all at once. Entrepreneurs like yourself have plenty of factors to consider at every stage of the game, which can get complicated, fast. To help keep things simple, we're taking you back to basics to teach you everything you need to know about trademarks.
Welcome to the wonderful world of intellectual property (IP), over which trademarking reigns supreme as one of the most familiar subsets of brand protection. Registering a trademark allows you to legally defend ownership of your brand, products and services to protect yourself from infringement and copycats.
Beyond protection, there are many additional benefits of trademarking that can help your business grow; but first, let's take a look at what exactly defines a trademark.
What is a trademark?
A trademark is any combination of words, letters, designs or sounds used to distinguish the brand, products or services of one company from those of another in both domestic and international markets.
Some famous trademarks include the Nike swoosh symbol, the Energizer Bunny, the Golden Arches of McDonald's or the jingle you hear at the beginning of a TV program.
Trademarks are unique to each business, in that they not only represent the goods and services of a company but also embody the company's brand and reputation. Registering your trademark with the intellectual property offices of your choice is the best way to protect your business assets from misuse.
What kinds of trademarks are there?
The three most common types of trademarks you can apply for, based on whichever is most relevant to the business element you want to protect, include:
Word Trademarks are represented by letters, words, numbers or any other typed characters. The brand name "Apple" is an example of this.

Design Trademarks are also known as figurative marks and are so named due to their graphical elements including pictures, graphics or images. The unique shape of the Coca-Cola bottle design is a great example.

Combination Trademarks combine both design elements and letters. The IKEA logo is a perfect example.
You can trademark a much wider variety of intellectual property options, including slogans, symbols, colours, scents and more. Additionally, there are heaps of distinguishing categories used by trademark offices around the world that separate marks based on industry, function, and design such as chemicals, foods, electronics, and more.
Who can register a trademark?
Any person or business entity can apply to register a trademark, provided they comply with the intellectual property legislation of that jurisdiction and can prove genuine intent to use the mark in question. Fun fact: there is no age restriction for trademark registration!
Do you need to register your trademark?
A registered trademark is protected by law from infringement and misuse, meaning that ownership of the associated goods and services is legally recognized to the registrant by the government of the country in which the trademark is registered. A registered trademark is identified with the circle "R" superscript.
In some jurisdictions you are not required to register a trademark. Unregistered trademarks refer to those not yet registered by the IP office of the country in which the mark is being used. An unregistered trademark can be protected from use by other potential users by affixing a TM or SM superscript to the mark but does not ensure legal trademark protection.
What are the risks of using an unregistered trademark?
Given that unregistered trademarks are not protected under trademark law, you run the risk of encountering trouble protecting and policing your brand, products and services in the marketplace — not just locally, but globally. Without a registered trademark, it becomes more difficult to prove ownership over your business assets, which can damage your brand and drain your profitability.
What are the benefits of trademark registration?
A registered trademark, on the other hand, ensures that your related company assets are protected by law from infringement and misuse. Registering your trademark also helps build brand awareness by legitimizing your business and its associated goods and services as vetted by the jurisdiction in which you operate.
Some jurisdictions,; including Canada and China, only grant trademark protections (legal or otherwise) to registered marks, because they operate on a "first-to-file" system, rather than the "first-to-use" system used within the United States. As such, registering your trademark can open up new international markets, empowering you to scale your business globally.
Trademarks are valuable assets that appreciate as your business grows and can be a powerful marketing tool. Registered trademarks enable you to stand out from the competition and prevent copycats from stealing your hard work.
So what are you waiting for? In an increasingly competitive market, intellectual property protection should be a significant part of your overall brand strategy and business model.
Stay tuned next week for another blog in our Back to Basics Series. Until then, happy goal-getting to all our favourite entrepreneurs out there!
Want to learn more about what a trademark can do for your business? Click here to visit our website to sign up for a FREE trademark SuperSearchTM and a complimentary consultation!
Disclaimer: This website is not intended to offer legal advice or to be a substitute for a consultation on a case-by-case basis with an attorney. The information provided above is meant for informational purposes only and may be subject to change.
© 2019 Witmart, Inc. All Rights