Client Snapshots — Thinkflame
Create Time 2019-02-13 03:02 Views:12252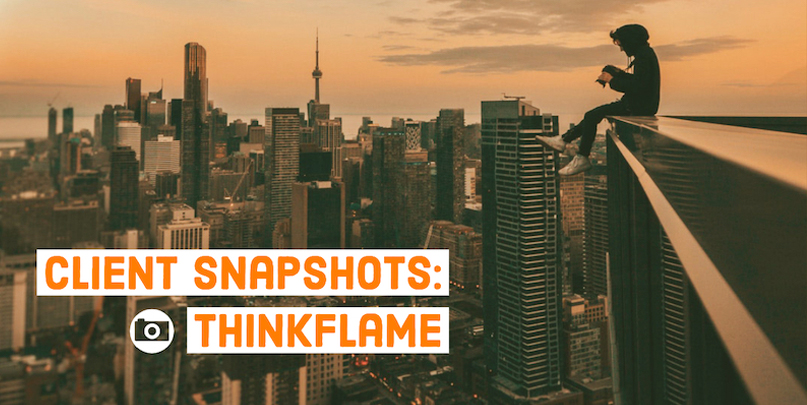 Stories teach, inspire and entertain us — but most of all, they define who we are. At Witmart, our story begins with our clients and lives on through their successes. Today, we're featuring the success story of our longtime client Shelly Patrick, founder and managing partner of Thinkflame, a marketing agency based in the Greater Toronto Area.
So tell us about your business!
Thinkflame is a full-service marketing agency. We concentrate primarily on digital marketing, although we do offline marketing as well. Our goal is to get our clients traffic and then capture and convert that traffic into leads and longterm customers. Without traffic, there are no customers. If you don't capture that traffic, there are no customers. So our focus is always to help our clients increase their customer growth.
Which specific marketing services do you provide?
We help businesses build their marketing strategy from the ground up. We typically start by creating a professional website for the business, generating both organic and paid traffic to get as many people to the site as possible. From there, we assist the company with quality content marketing to ensure all visitors to their site have something valuable to consume whenever they arrive on the page.
What types of content do you help businesses create?
We help with everything from web pages and blogs to videos and social media. One of our main focuses is making sure that every time a potential customer lands of a page, there are options available to start a discussion — whether it's a forum to capture their information or a means for them to contact your business directly. That's what good marketing is all about: starting conversations with people and trying to provide the right fit.
Why did you choose to devote your career to helping other businesses?
Well, I worked in corporate marketing for a long time but left because I wanted the opportunity to help other people. Starting my own business was a way for me to help support local companies, who are truly the backbone of our cities. For me, marketing for small businesses is a means of giving back to the community.
What was your trademark experience?

A couple of years ago, we got a cease and desist letter because someone had trademarked part of our business name. All of a sudden we were dealing with a trademark issue and had no idea what the process was, which is how ended up registering our trademark with Witmart.

They made a very difficult process as painless as possible. It was such a relief to talk to somebody who knew what they were doing and wasn't alarmed about the situation the way I was. With their help, we were able to resolve the situation — it was definitely a learning experience!
What advice would you give small businesses?
Any businesses out there, if you haven't trademarked your name — please trademark your name! It's one of the first things we tell new clients because you may think naming your company is simple, but if you don't do the footwork to make sure the name isn't already associated with someone else, you could end up having to do an entire rebrand.
Ultimately though, if you're going to succeed in business you have to be prepared for the bumps in the road. Don't look at them as failures, or permanent stops — learn from them. There's going to be days that are stressful, but you have to be able to enjoy the small successes along the way — just have fun with it.

To learn more about Thinkflame…
Website: https://www.thinkflame.com
Facebook: https://www.facebook.com/thinkflameLLP
Twitter: https://twitter.com/ThinkFlameLLP
LinkedIn: https://www.linkedin.com/company/thinkflameagency
What's your business story? If you want to be featured, we want to hear from you! Send us an email at marketing@witmart.com to show your interest.