Witmart China Joins Round-Table Discussion About Opportunities in Canada with Governor General
Create Time 2017-07-12 05:07 Views:11318
In his second state visit to China, His Excellency the Right Honourable David Johnston, Governor General of Canada, participated in round-table discussions with leaders of e-commerce corporations for further collaboration in science, technology, and innovation on July 12th.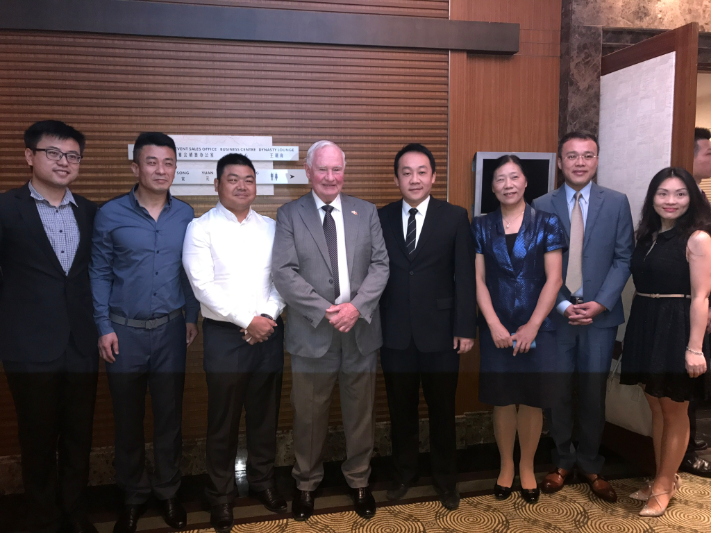 Second from left: Li Qinghui, vice president of Witmart; Zhu Mingyao, founder of ZhuBaJie; David Johnston, Government General of Canada
Accelerating globalization
In-depth discussions were held regarding the driving and strengthening cooperation between e-commerce companies in Canada and the Chongqing region with Zhu Mingyao, founder of ZhuBajie (the parent company of Witmart) and Li Qinghui, VP of Witmart.
Bardish Chaggar, Leader of the Government in the House of Commons and Minister of Small Business and Tourism, extended her welcome for Chinese e-commerce companies to expand into Canada. She further remarked that this will increase cooperative interaction between medium and small businesses in China and Canada.
Responding to the Canadian delegation, Zhu expressed his desire and willingness for a more active working relationship across many fields between the two countries. He continued, the relationship would not only expedite the development of more companies, but doing so allows more Chinese businesses to integrate with the international market.
Bringing the benefit to everyone
ZhuBaJie, having established itself in 2006, has since grown to become the leading e-commerce marketplace for SMEs in China, holding a market share of a staggering 80% in service transactions. Over the years, more than 13 million service providers and 6 million employers were brought together, and employment opportunities for millions were created.
Already having played an active role in the birth of more than 150,000 businesses, ZhuBaJie is determined to unify business and societal values across the globe. By establishing Witmart's Toronto office in 2015 and joining the Canada China Business Council in 2016, it seeks to bring the benefits of the China-Canada trade relationship to as many individuals as possible across the two countries.